Scalia Law School
As director of design and web services, I am responsible for the Scalia Law School web presence. From branding strategy to responsive design to front-end development to content management system administration, I strive to attract prospective students, enhance user experience, improve speed performance, tighten web security, and serve the law school's community.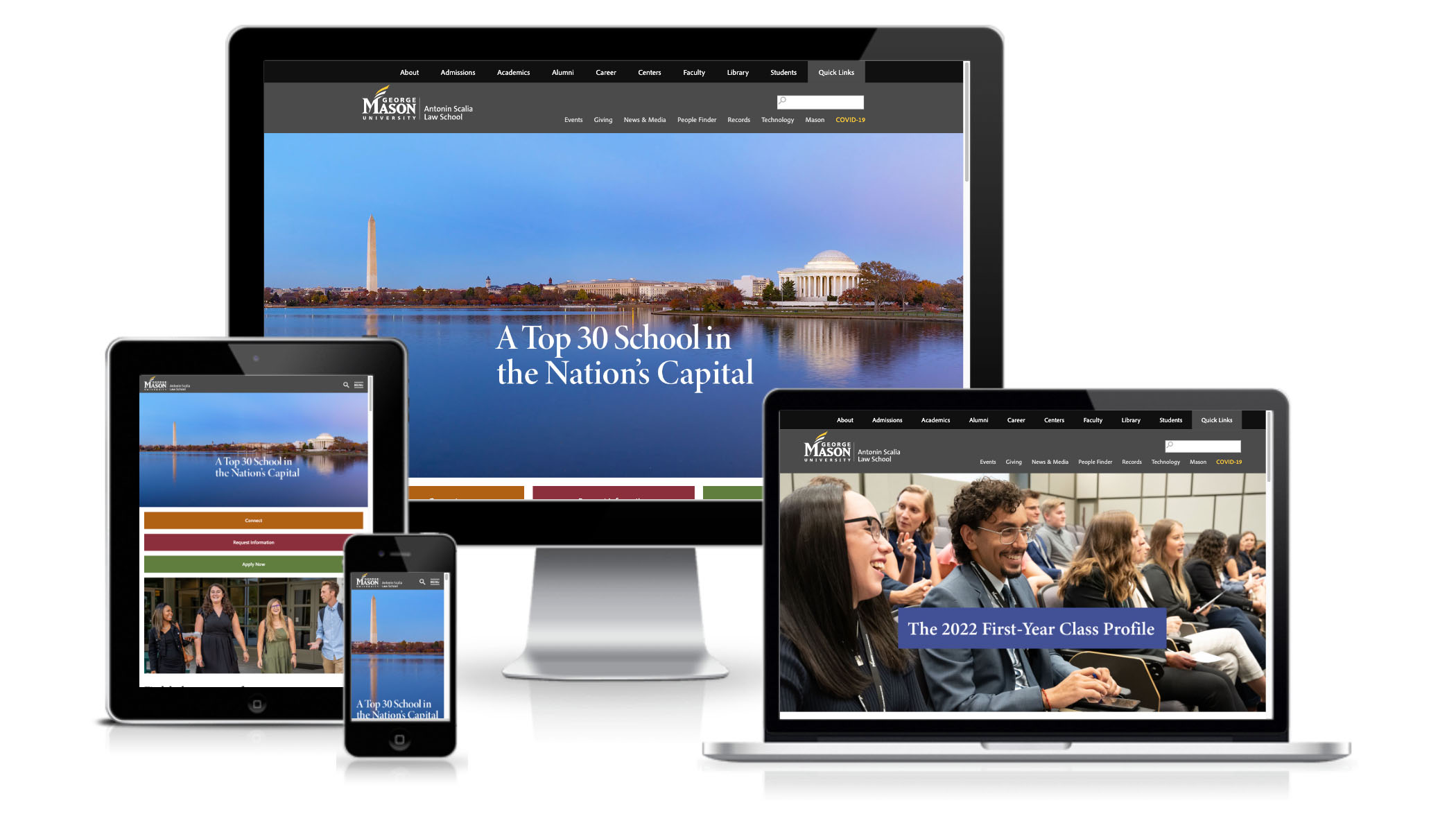 Design
For the latest redesign of the Scalia Law School website, our goal was to focus on prospective students. The rotating banners showcased our exceptional location, extraordinary community, and unprecedented preparation for careers. To help potential students get the information they need upfront, we featured three action buttons (visit, request information, apply) and highlighted our programs (Flex JD, JD, LLM, JM). To show our diversity and community, we spotlighted our faculty, students, administration.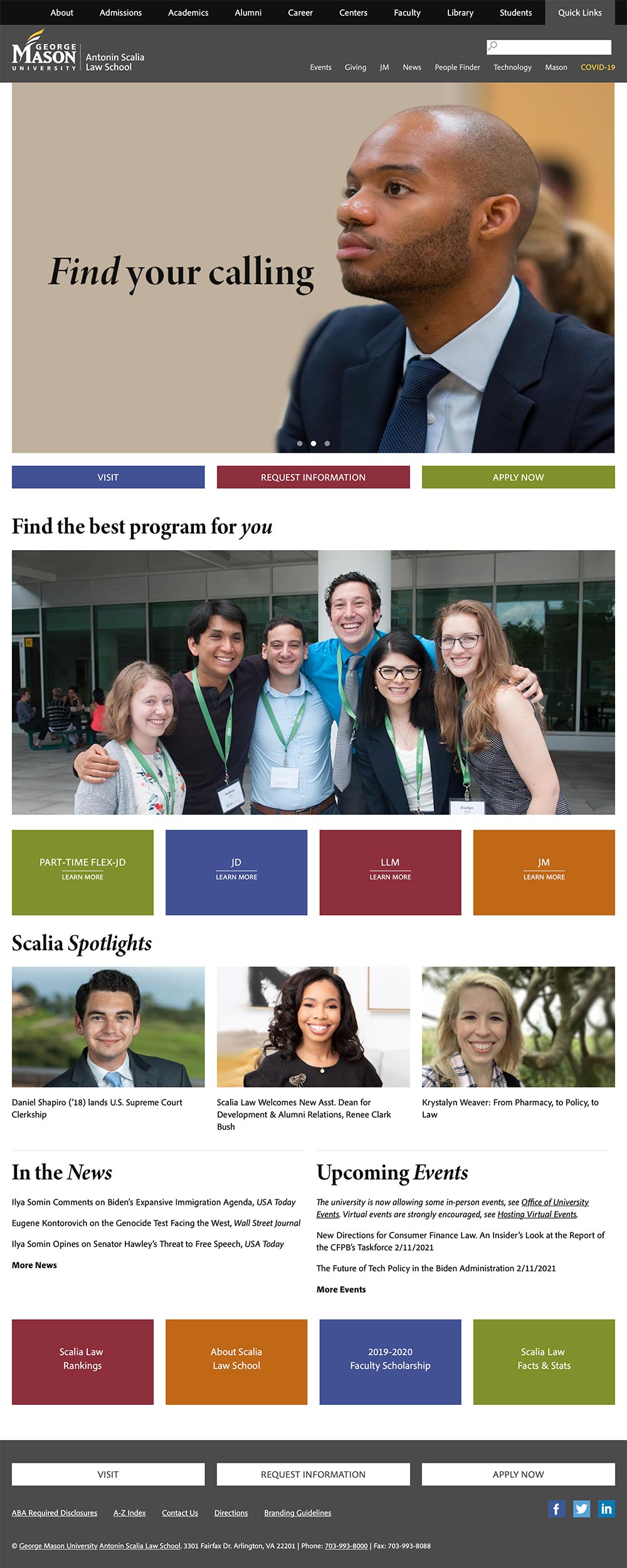 Typography
Although Myriad Pro, designed by Carol Twombly and Robert Slimbach, is the university's primary typeface, I chose Pelago, also designed by Slimbach, to be the primary typeface for Scalia Law School. Similar to Myriad Pro, Pelago is a workhorse sans serif. Pelago, however, has larger counters, which are more readable for text on screen, and has letterforms that are less geometric and more natural for reading than Myriad Pro.
For headings and display texts, I selected Minion 3, also designed by Robert Slimbach. With its elegance and versatility, Minion 3 Display offers contrast yet complementary to Pelago. Minion and Pelago brought a unique, harmonic, friendly combination to the Scalia Law branding.
Development
When I took over the Scalia Law's main website in 2011, it was powered by MODX Evolution and hosted on a dedicated server at GoDaddy. Within the first three months on the job, I redesigned the entire website from scratch. I restructured the HTML, created the entire new CSS architecture from the ground up, and modified MODX templates. I made the layout responsive and brought more editorial designs to the pages. Working with an independent web developer in 2017, we upgraded to MODX Revolution and moved to a more powerful dedicated server. In late 2020, I worked closely with the team behind MODX to migrate the Scalia Law School website to MODX Cloud.
Scalia Law Sites
SLS is a network of Scalia Law sites powered by WordPress Multisite. When I led the law school digital experience, I saw the need to provide anyone from the law school community to have a web presence. From centers to institutes to students to faculty to administrators, they need to have their website separated from the law school main site so they can update and maintain themselves. As a longtime WordPress user, I knew Multisite was the solution. I installed the software, architected the domains (URL), designed the themes, and launched the network in 2017. I trained developers, content strategists, and directors of communications to create and maintain their own sites. As more sites came on board, we needed to migrate the network to WP Engine to handle the scaling. The Scalia Law networking is hosting over 40 sites.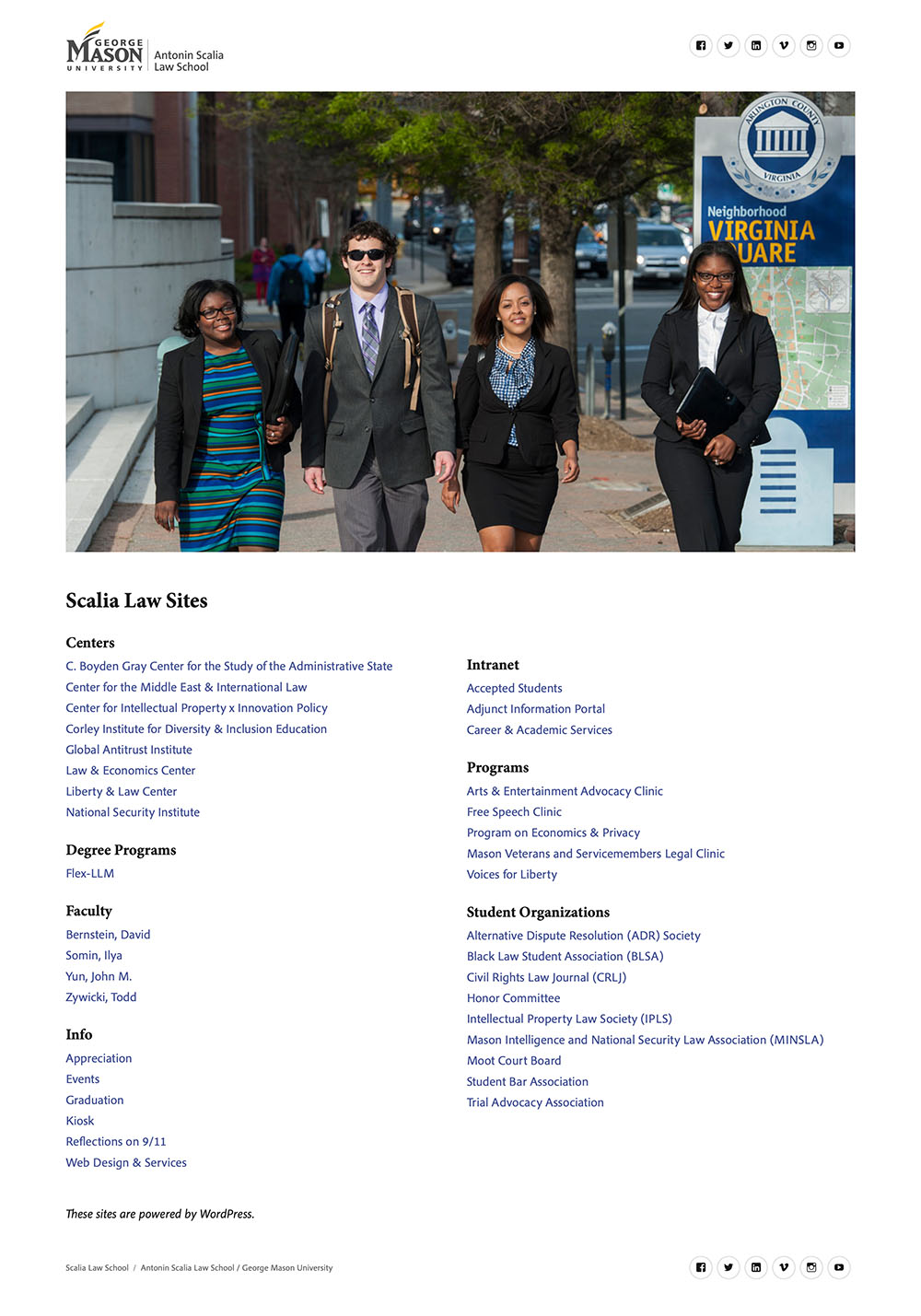 Praise
Donny recently redesigned the Scalia Law School's website. He gave it a more open, fresh, and contemporary look. Everyone at Scalia Law is impressed with the results, and we believe that the new design better reflects the image of a modern, up-and-coming law school. Donny is a very talented designer who is easy to work with. He listens to our needs and finds the right solutions for us. We look forward to continuing to work with Donny in the future.
– Deborah M. Keene, Associate Dean, Library and Technology at Antonin Scalia Law School