In recognition of the $30-million historic gift, the law school renamed after Justice Antonin Scalia. Dean Henry N. Butler entrusted me with the design of the new visual identity. I took the opportunity to simplify and unify the branding experience.
The new identity not only has to be distinctive for the law school, but also has to reflect the overall brand of George Mason University. The new logo must be scalable, flexible, and usable in various situations and applications.
Typography
Although Myriad Pro has been chosen as the university's primary typeface, we switched to Pelago, designed by Robert Slimbach, for Scalia Law's primary typeface. Similar to Myriad Pro, Pelago is a workhorse sans serif. Pelago, however, has larger counters, which are more readable for text on screen. Pelago's letterforms are less geometric and more natural for reading than Myriad Pro.
We still keep Myriad Pro, designed by Carol Twombly and Robert Slimbach, for big, bold, expressive display communications. While Pelago is ideal for reading text, it is lacking the extensive family that Myriad Pro has. With 40 fonts, Myriad Pro can be used in any circumstance; therefore, it is still a highly flexible typeface. Set as header, Myriad Pro Condensed is a perfect complementary to Pelago's text.
Website
As director of design and web services, I am in charge of every aspect of the Scalia Law School's web presence. From responsive design to front-end development to CMS customization, I have the responsibility to improve the site's performance and to enhance the user experience.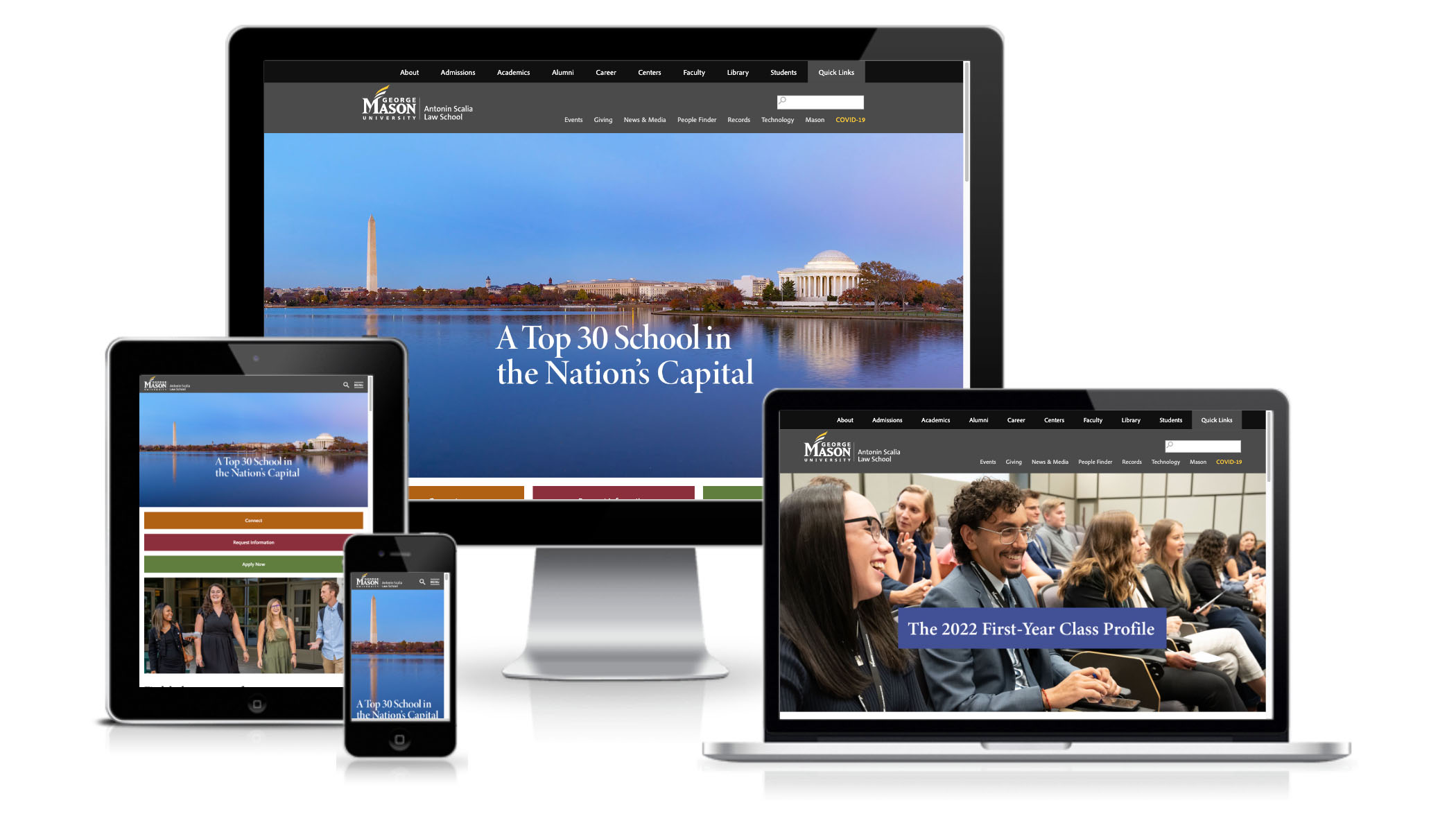 In the latest redesign, I worked closely with the deans to support the school's new vision: Learn. Challenge. Lead.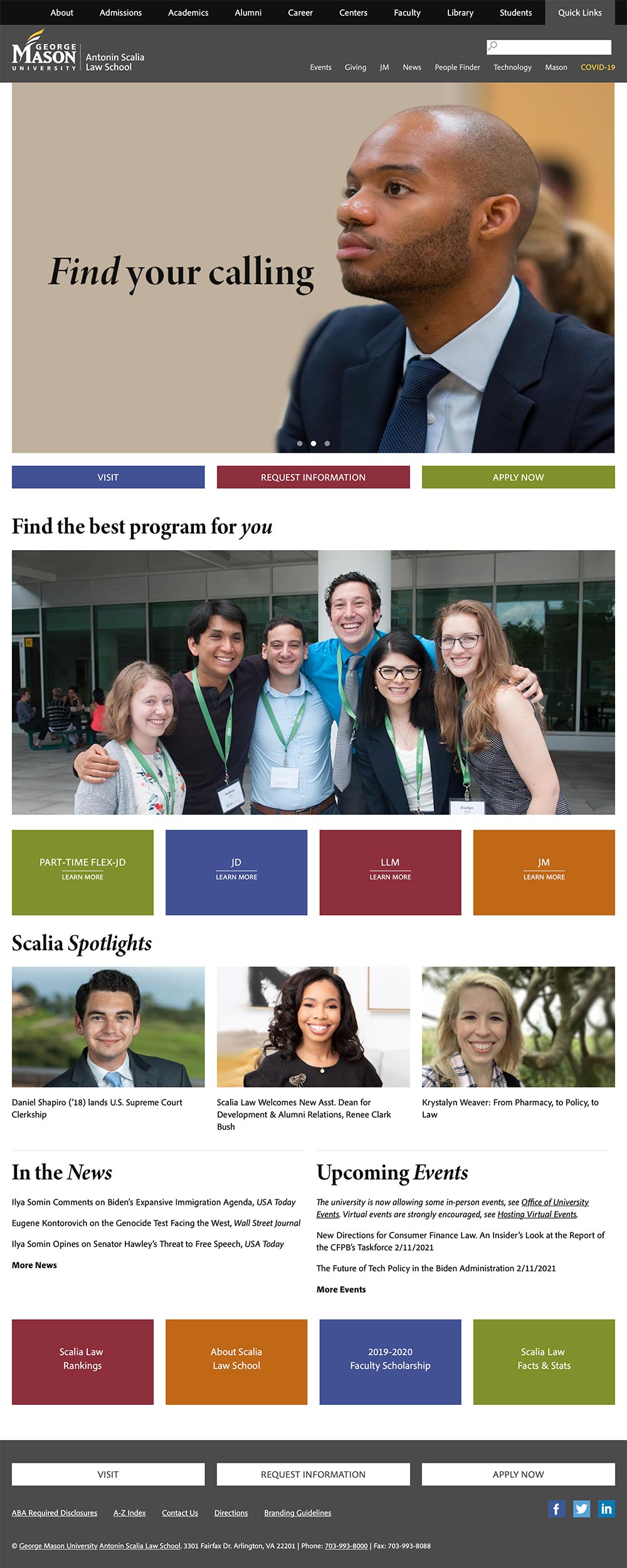 To strengthen the brand, I incorporated larger type, richer colors, and bolder visual elements. The editorial pages (location, faculty, community, and careers), for example, use heavy weights and colors to integrate typography with photography.
Tagline
The tagline, Learn. Challenge. Lead, is set in Myriad Pro Black Condensed for maximum impact. For color choices, white was selected for "Learn" because white associates with pure. When students come to Scalia Law School their minds are pure and ready to learn. Orange was selected for "Challenge" because the bright color radiates energy and stimulation. Students are here to learn and to challenge. Gold was selected for "Lead" because it is the color of success, achievement, and triumph. Students will be ready to lead once they go into the real world.
Banners
These retractable banner stands were designed to display throughout the building.
Scalia Law Sites
In an effort to provide individual websites for the law school community including admissions, centers, faculty members, and student organizations, I worked with the deans to establish a unified design, collaborated with stakeholders to meet their needs, and partnered with the director of technology services to implement the back-end architecture.
For the visual elements, we would like to provide each site its own identity while maintaining the Scalia Law branding. On each site, the top hat, which has the school name, and the bottom footer, which has the tagline, are part of the unified brand.
To provide site owners the capability to update thier own content, we implemented WordPress as an easy-to-use CMS and took advantage of its Multisite feature to power a network of sites with one installation.
As of this writing, we have 27 sites in the network and more to come in the near future.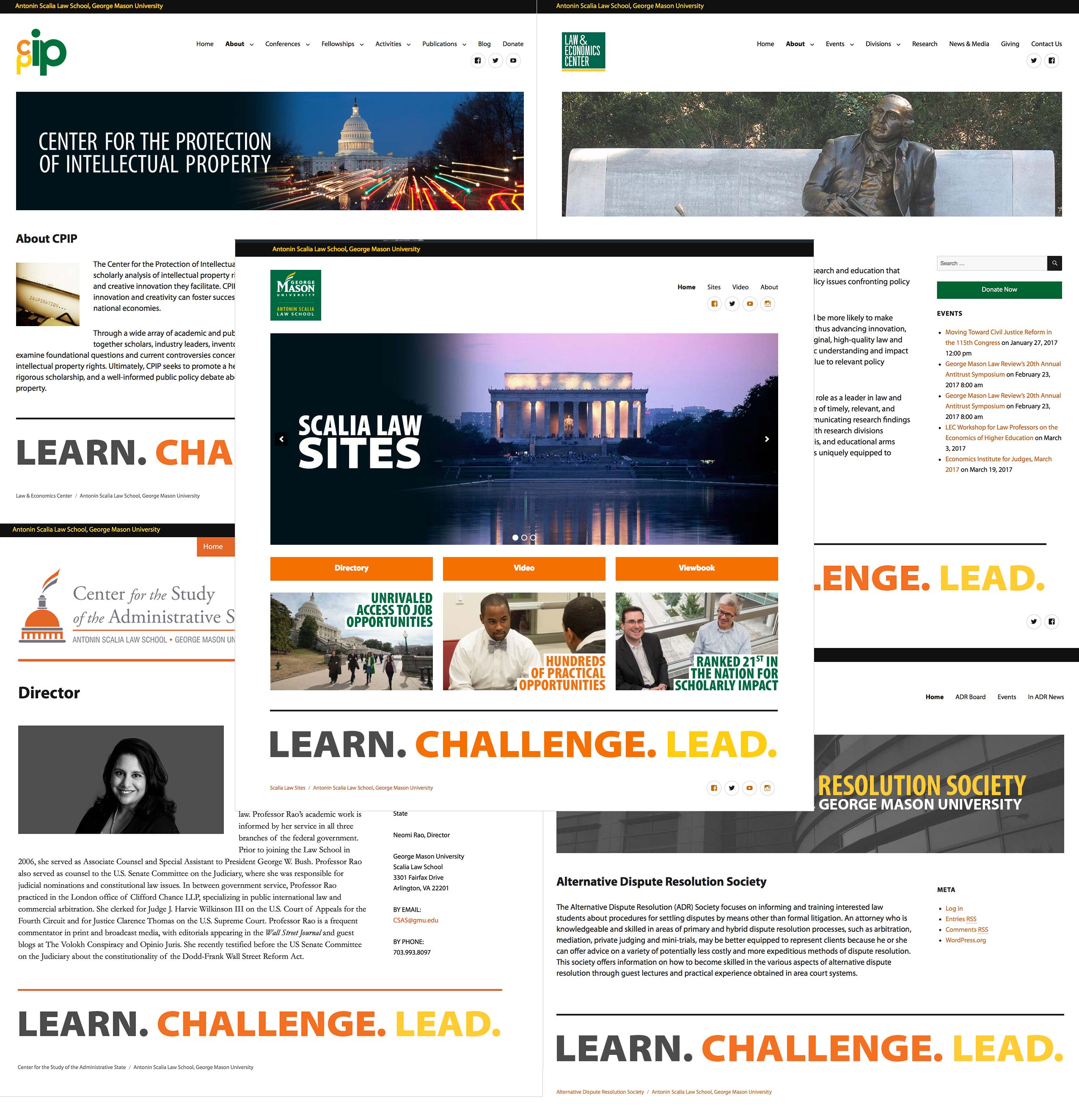 Testimonial
Donny recently redesigned the Scalia Law School's website. He gave it a more open, fresh, and contemporary look. Everyone at Scalia Law is impressed with the results, and we believe that the new design better reflects the image of a modern, up-and-coming law school. Donny is a very talented designer who is easy to work with. He listens to our needs and finds the right solutions for us. We look forward to continuing to work with Donny in the future.
– Deborah M. Keene, Associate Dean, Library and Technology at Antonin Scalia Law School