Le Mekong
Le Mekong Cuisine had launched a new website with another agency. I had nothing to do with the new site. Nevertheless, I would like to keep this case study for posterity.
When the co-owner of Le Mekong Cuisine reached out to me to design her site, she would like to get the visual design right from the start. She knew what she wanted to do with her restaurant and she understood that marketing was essential to her business.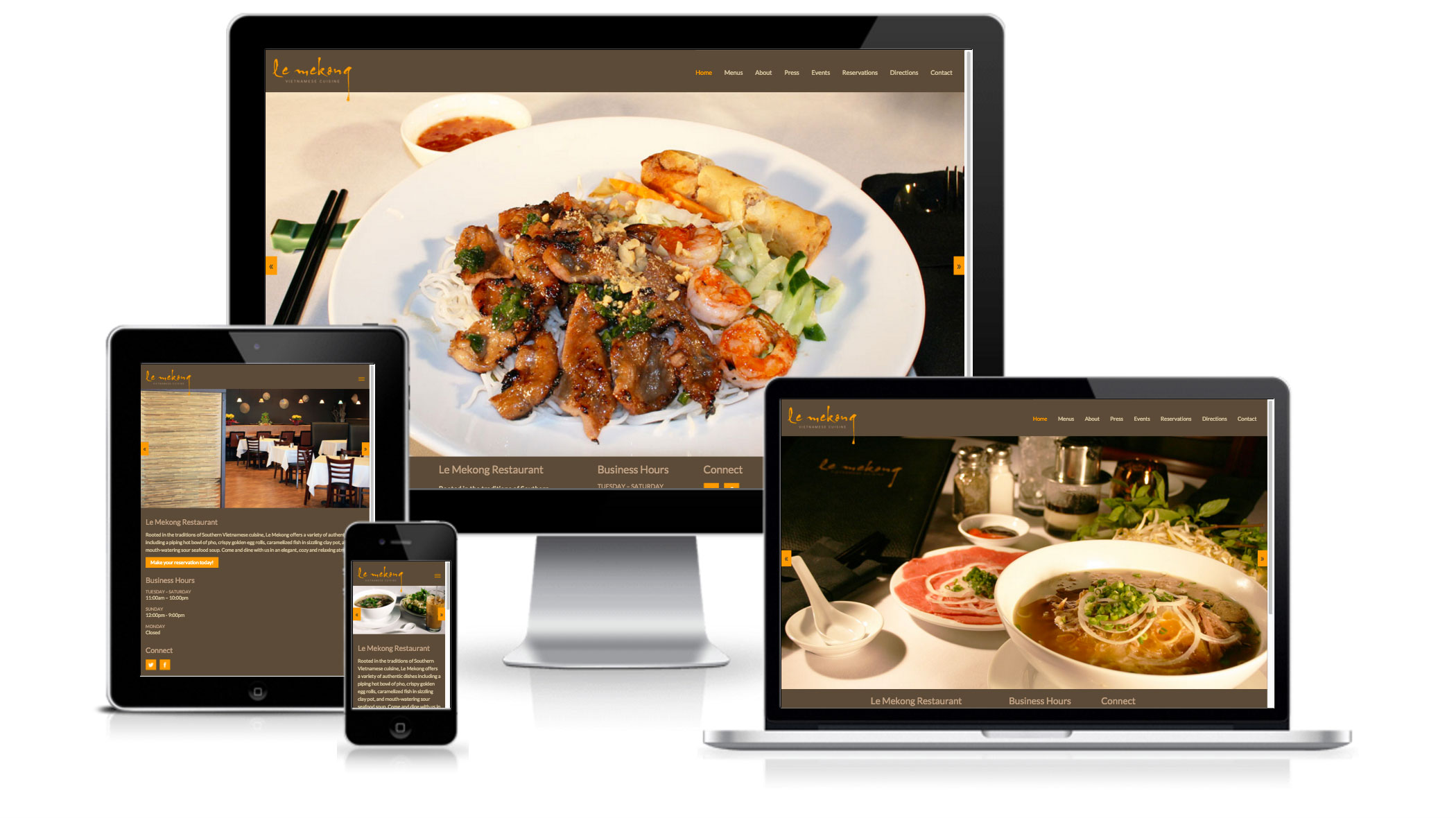 At first, I was hired to design the website only, but it was expanded into creating print marketing materials including business card, letterhead, envelope, flyers, gift certificates, and employee handbook. The co-owner would like a consistent look and feel across the board and she appreciated my simple style.
Design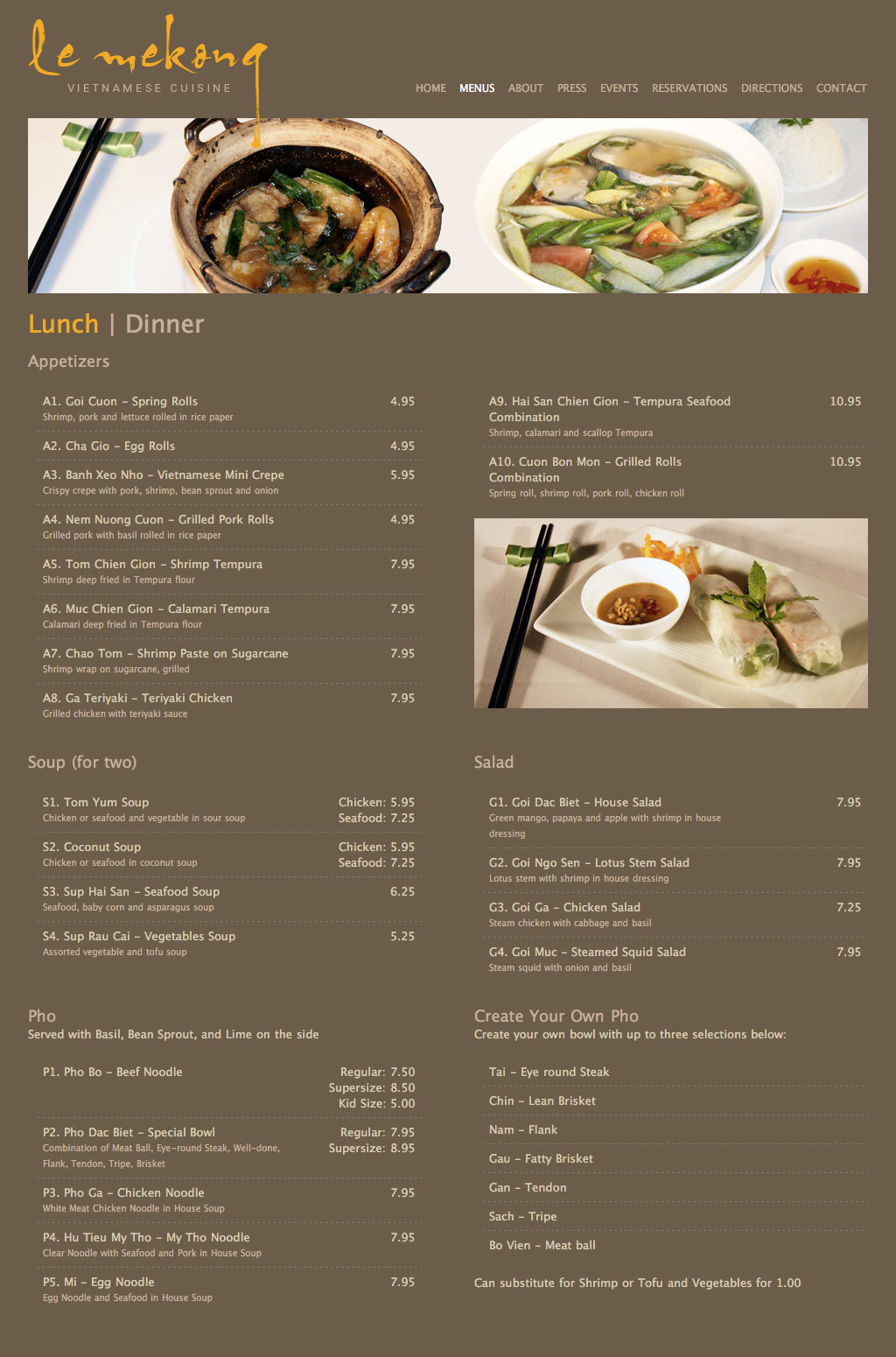 In the initial launch, the site was marked up in HTML5 with a bit of CSS3 and a Flash slideshow. Five years later the co-owner rehired me to optimize her site for mobile experiences. I took the opportunity to rewrite the HTML and CSS from scratch. The new markups were cleaner and leaner. The responsive layout made it seamless to access on various devices. I also replaced the Flash slideshow with HTML, CSS, and JavaScript. The online menus were the pages I was most proud of. The items were presented using pure CSS instead of table layout.
Identity
Designing the branding for Le Mekong was one of my favorite parts of this project. The wordmark is set in HL Thư Pháp, a popular, calligraphic typeface that is being used everywhere in Vietnamese publications. What makes this brand distinctive is the bright orange set against the brown background and complemented with the clarity of Univers typeface. While the script suggests traditional Vietnamese, the sans-serif gives a sense of modernness. From the logo to the stationary to the website, I am still proud of the work I had done for this project. I even wrote the about page:
Ask Vietnamese Americans who grew up in Vietnam and migrated to the United States what they missed the most from their homeland and the answer would be Vietnamese cooking. Thảm Huỳnh and Khanh Nguyễn, founders of Le Mekong cuisine, are no exception. Born and raised by the delta river, they never let the taste of South Vietnam escaped them even though they both have been away from their homeland for almost three decades.

To conquer their nostalgia for Vietnamese food, they decided to bring Vietnam's southern flavors to Johns Creek, Georgia, where they currently reside. With Huỳnh's classic Vietnamese cooking techniques, and Nguyễn's management skills, they built Le Mekong from the ground up to share their passion for Vietnamese food and fine-dining experience.

Whether it's a hot bowl of phở, a gourmet Vietnamese crepe (bánh xèo), enticing cubes of filet mignon (bò lúc lắc), a delightful dish of grilled eggplant (cà tím nướng), or a family-style meal consists of Vietnamese sour soup with caramelized fish in clay pot (canh chua cá kho tộ), Le Mekong is a one-stop restaurant for fresh, healthy, and delicious Vietnamese culinary.