Mapping Corruption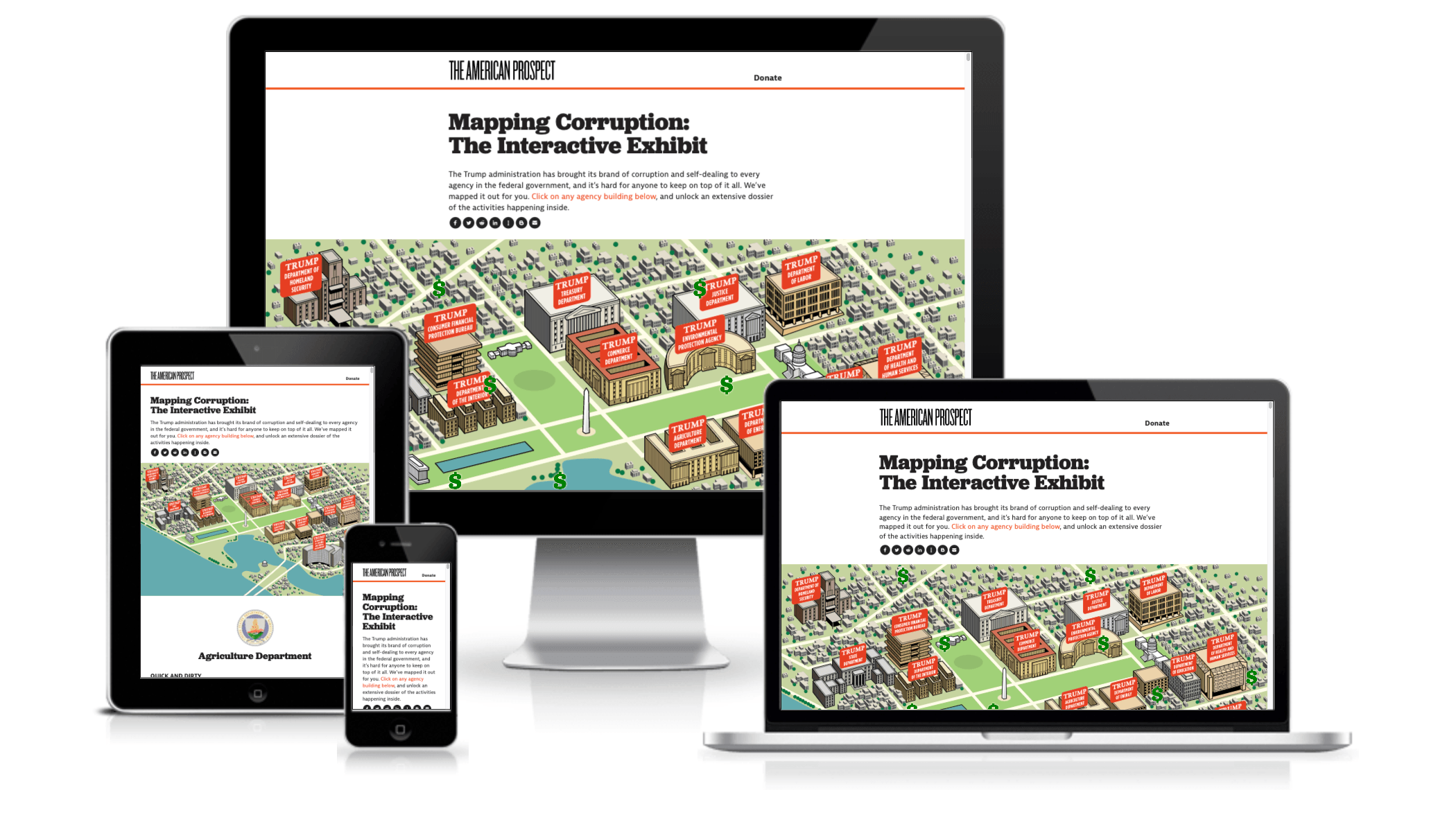 Since became president, Donald J. Trump had brought his brand of corruption to every federal government agency, and it was difficult for us to keep track of it all. Fortunately, Jim Lardner, a journalist and political activist, had mapped out the corruptions by unlocking extensive dossiers of the activities happening inside 15 federal departments. He wrote the cover story titled, "Mapping Corruption: Donald Trump's Executive Branch," for the March/April 2020 issue of the American Prospect.
The publication wanted to turn the story into an online interactive exhibit. Jandos Rothstein, the Prospect's art director, reached out to me for the job. Mr. Rothstein was one of my professors at George Mason University's School of Art and my advisor for my final thesis on Vietnamese Typography. I was tasked to design an interactive webpage based on the map illustrated by Peter and Maria Hoey.
My initial impression was that I might have to create an image map, which I did not know how to pull off with responsive design. Fortunately, I was able to export the illustration into an SVG, which allowed me to have access to individual shapes of the buildings. I was able to add HTML classes inside the SVG code and created some animation using CSS. On hover, the building slid a bit and turned dark. Then we threw in flying dollar signs ($) to show corruptions.
I invite you to check out "Mapping Corruption: The Interactive Exhibit" and access each agency building to unlock an extensive dossier of the activities happening inside.
Credits
Dossiers by Jim Lardner
Map art by Peter and Maria Hoey
Coding by Donny Trương